10:30-11:30 - "Make it Sound like Fiddling! Dips and Pulses!" Old-Time Fiddle with Greg Canote
We'll spend some time with a simple bowing pattern that takes advantage of my favorite fiddle doodads! (Possible tunes: Great Big Taters and Sail Away Ladies) (Workshop A)
---
10:30-11:30 - "The 5th String is Your Friend" Old-Time Banjo with Jere Canote
In this workshop, we'll explore the "Galax" lick in "Twin Sisters," and the 5th string pivot in the three part Cumberland Gap! (Workshop B)
---
11:45-12:45  - Old-Time and Irish Fiddle Tune Connections with Jason Cade
In this workshop, Jason will discuss some of the tunes from the Southern Appalachians that have "cousins" in Ireland. Jason will  demonstrate the tunes at moderate speed. Discussion will include noticing and adhering to subtle differences and the challenges of playing in more than one closely-related style. The workshop is open to all instruments as well as non-musicians. (Workshop B)
---
11:45-12:45 - Cross-tuned Mandolin with Rob McMaken
Workshop participants need to come with an open mind and de-tune their mandolin to GDGD. This workshop will try focus on the potential of mandolin to take the liberties of old-time fiddle players and cross-tune their instruments. Rob will draw on these tunes from previous Hog-Eyed Man (HEM) releases. (Workshop A)
---
1:00-2:00 - Harmony Singing with Echo Mountain
Echo Mountain invites you to sing along as they play favorites by The Carter Family! This beginner-friendly workshop will focus on the close harmony singing of the legendary trio. Bring a guitar (and a capo) and together, we will break down melody, harmony, and accompaniment. Want to know how to pick the best key for your voice? We got you. Ever wonder what the heck this mysterious "Carter Scratch" is? Head on over. Or maybe you feel like basking in tales of Depression-Era America — come on down and bring your annotated first edition of The Grapes of Wrath with you. Whatever you're looking for, hop on the old gospel ship with Echo Mountain and we'll go sailing through the air! (Workshop A)
---
1:00-2:00 - Old-Time Guitar with Howard Rains
Howard will teach his approach to playing back-up guitar for the fiddle. Although his style is rooted in the midwestern back-up style, his approach is applicable to backing up all styles of American fiddling. He will discuss "Missouri Rules" as well as how he accompanies different regional styles. The importance of the boom-chuck and bass runs will be discussed as well as how to listen for different regional fiddle styles and how to make your playing fit within the style being played. (Workshop B)
---
2:00-3:00  - Flatfooting with Ruth Alpert
Love the music but don't play an instrument? Play your feet! Flatfooting is the improvisational, traditional form of foot percussion, the precursor to clogging.  In this workshop you will learn a couple of very simple steps, adaptable for any body or body limitation.  The focus is on playing the tune with your feet - letting the music tell you what to do!  For all levels, beginner to advanced.  Best to wear shoes that secure your feet (not flipflops). (Flatfoot Area)
---
2:00-3:00 - Old-Time Fiddle with Tricia Spencer
Tricia will teach her approach to old-time fiddle built upon the shortcuts her grandma, Iona Spencer, showed her when she was young. These are things every fiddler should know but maybe haven't picked up along the way. She will unlock the mysteries of seconding, which allows a fiddler to focus on bowing, intonation, and learning tunes more quickly through the use of chord shapes. All tunes and techniques will be learned by ear, so be sure to bring a recording device, paper and pen if you want to take notes, and expect to have a lot of fun. (Workshop A)
Hosted Jam Schedule (Jam Area)
10:00-11:00  - West Virginia & Kentucky Old-Time Jam hosted by Joe Wack with Laura Osborn
11:00-12:00 - Old-Time Jam in the key of C - "C" What the Cat Dragged In - hosted by Andy Denes 
12:00-1:00 - Old-Time "Favorites" Jam  hosted by Jim Mueller 
1:00-2:00 - Midwestern Tunes Old-Time Jam hosted by Pat Mac Swyney & Nick Bachman 
2:00-3:00 - Andy's Favorites - Old-Time Jam hosted by String Bean Serenaders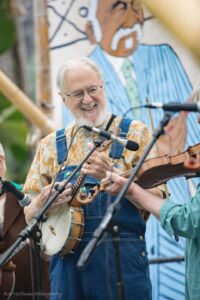 Meet our INSTRUCTORS & JAM HOSTS
The Canote Twins - Twin brothers Greg and Jere have spent most of their seventy plus years playing and singing together! Raised in California's central valley and later the Bay Area, they remember tagging along with their parents to folk and square dances. They have played hundreds of dances over the years with caller and square dance icon Sandy Bradley and joined her for thirteen years as her affable sidekicks on NPR's "Sandy Bradley's Potluck". They have taught and performed all over America at music festivals and instructional camps and have taught an ongoing stringband workshop in their hometown of Seattle for over forty years! Filmmaker Larry Edelman has just released a full length documentary film "The Canote Twins" and they continue to spread joy and musical fun wherever they go!
As a youngster, Jason Cade began learning rare tunes and an older style of playing from master fiddler and tune-catcher Bruce Greene, his neighbor growing up in the South Toe Valley of Yancey County, NC. Jason's oldtime music is also heavily influenced by his mother's fiddle teacher, the late Byard Ray of Madison County, NC, and the field recordings of the tremendous musicians who once lived in the Blue Ridge Mountain region of western NC, eastern TN, and north Georgia. He has lived in Ireland and NYC, and toured and recorded with celtic, country, and bluegrass bands, but his heart has always remained with the old tunes of his NC homeland. In 2016, Jason won the prestigious fiddle contest at the Appalachian String Band Festival in Clifftop, WV.
North Georgia native Rob McMaken honed his fiddle tune chops busking in New Orleans. He has developed a tasteful and exciting accompaniment style on lap dulcimer, mandolin, guitar, and banjo-uke, effortlessly shifting between note-for-note melody, harmonic counterpoint, and rhythmic drones harkening back to the Old World. Before immersing himself in oldtime music, Rob traversed musical traditions from all over the world in the folk duo Dromedary and the jazz collective Kenosha Kid.
Tricia Spencer grew up in Kansas, learning the tradition of old time music from her Grandparents, Vernon and Iona Spencer.  At an early age, she was perched up on some stage tapping her foot to the sound of fiddles, banjos, mandolins, and guitars. Tricia has studied with some of the great masters in old-time music and is highly sought after as a performer, dance fiddler, and instructor.
Howard Rains is an artist and fiddler from Texas, now living in Kansas, who comes from a family rich in both of those traditions. Howard plays rare, old tunes learned from friends, family, mentors, and old recordings. As much known for his painting as his fiddling, Howard has spent many years painting watercolor portraits of his fellow musicians and is also the lead artist and graphic designer for Tiki Parlour Recordings in Los Angeles.
Echo Mountain features Kyle McNally, Jonathan Shifflett, Peter Linden, Kelly Marie Martin and Ben Kramer. They have been at Watkins Family Hour, Grass Valley Father's Day Bluegrass Festival and Parkfield. Their collective vision is a repertoire reflecting the full spectrum of the old-time tradition, tackling complex fiddle tunes, and rich harmony singing while remaining true to traditional style and form.
Jim Mueller says: I attended my first Santa Barbara Old-Time Fiddlers' Convention in 1976 and have been a regular attendee ever since.  I've been influenced by many fiddlers over the decades, including Tom Sauber, Pete Sutherland, Alan Jabbour, Ralph Blizard, Bruce Molsky, and many others.  In fact, I feel that I have been influenced by everyone that has ever shared a tune with me.  I have performed with the Growling Old Geezers, For Old Times' Sake, and the Rosin Sniffers. That said, my favorite musical partner is my wife, Amber.
Ruth Alpert first saw flatfooting at Don West's festival in Pipestem, West Virginia in 1968.  It went straight to her heart and never let go!  She began flatfooting regularly in New York City in 1978, dancing in the aisles of the Eagle Tavern to local and visiting old-time bands.  She has taught workshops, danced with Old Time Appalachian string bands, and busked in various cities in at least 6 states. She is a two-time National Champion in Senior Buck Dancing and a two-time Grand Champion at The Appalachian String Band Festival at Clifftop, WVA, 2019 and 2023.   She was a member of The Fast Peso String Band in Santa Fe, NM for 15 years, and currently is the percussion section of The Honeysuckle Possums, a Santa Barbara all female Americana band.
Joe Wack has played guitar, banjo, and old time fiddle since his teens and twenties. He moved from West Virginia in the early 90's and is retired after a career in television and movie animation.  For the past fifteen-plus years he has hosted the monthly Audubon Center jam in Debs Park, Los Angeles.
Andy Denes - A Dr. Spock baby and a Pete Seeger teen.  Long-time clawhammer player whose shoulder problems make mandolin less painful.  I've developed a tablature system which I'm happy to share.  It's mando-centric but adaptable to fiddle.
String Bean Serenaders - Take four string band musicians from the Monterey Bay area, add a bunch of years of musical experience and stir in a mix of fiddle tunes and hillbilly songs, ferment for a while and you've got a farmer's market band called the String Bean Serenaders.
Pat Mac Swyney grew up in Chicago and Los Angeles listening to his mother's Dubliners and Bing Crosby records.  Pat began playing traditional music in 1982 and currently lives on the windswept steppes of north Los Angeles County where he plays Old-Time with Sausage Grinder, Trad. Jazz with The Swing Riots Quirktette; Balkan with Nevenka & Orkestar Pečurka; & Irish with The Dirty Mickeys; Pat holds a degree in Anthropology from UC Santa Barbara and has subsequently never worked outside the music and food service industries.
Nick Bachman is an Old-Time fiddler from Iowa who takes special interest in Midwestern and Missouri Valley fiddle tunes. He currently lives in Los Angeles and works in the Animation industry.
Meet our Artistic Director
David Bragger is a performer, recording artist and instructor of old-time music on fiddle and banjo. He teaches private lessons in-person and online.
David has written articles and been featured in Strings Magazine, Banjo Newsletter, Fiddler Magazine and other publications.
David is the director of the UCLA Old-Time String Band Ensemble and the artistic director of the Santa Barbara Old-Time Fiddlers' Festival. David is also the founder of the critically acclaimed old-time music record label Tiki Parlour Recordings where he produces, records and films many of today's greatest traditional musicians.
David is also a wildly popular workshop instructor and performer at national and international music festivals, including the Festival of American Fiddle Tunes, FOAOTMAD (UK), Pickathon, Mars Hill Blue Rige Week, Rocky Mountain Old-Time Music Festival, the Portland Old-Time Music Gathering, the Berkeley Old-Time Music Convention, the Santa Barbara Old-Time Fiddlers' Convention, the Topanga Banjo & Fiddle Festival, the Los Angeles Old-Time Social and more.